For some reason, I woke up just after midnight yesterday, as Resurrection Sunday began. Checking my phone, I saw that someone had texted me an hour before with news of our mutual friend, Steve, who had been battling ALS for almost a year.
"If you wake up sometime in the night – I just want you and your family to know that Steve is really struggling tonight. (He) had a very strong sense that he may go to Heaven soon.
"Steve had thought and spoken a lot about
The Resurrection recently –
and he even made a short video (for Easter morning).
This was Steve's wish, to be able to speak to the church.
"I just wanted you to know what was possibly playing out for them tonight."
I was up most of the rest of the night doing just that. "Please, Lord, wait to take your servant. The timing is cruel. His family will associate every Easter with his death if you take him now! Please, please, just keep him here a little longer."
Morning came and there was no news –
which was good news!
Steve had survived the night!
Late that afternoon while our family was chatting around the table, full from the Easter feast, I shared what a close call Steve had that early morning and how kind it was that God didn't take him.
While I was still speaking,
a text came from his wife,
one of my most cherished friends.
It said simply, "He is in Heaven."
My heart stopped.
Why?!? Just hours earlier I praised You that he was out of imminent danger, but all the while his family was witnessing him struggle for every breath, all day. That was their Resurrection Sunday – a death watch.
Why would God be so cruel?
With the heart break still heavy this morning, I stumbled upon this quote by one of my all-time favorite theologians, Phillips Brooks: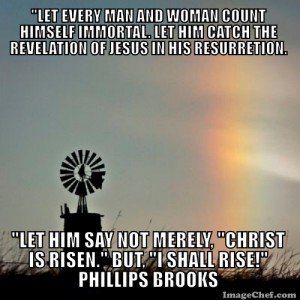 Then it hit me:
Perhaps the timing of Steve's death wasn't cruel,
but beautiful.
He had been able to attend his son's wedding just five days before – a wedding his family wasn't sure he would make.
Four days prior, he recorded that video played yesterday at Easter Sunday Service. How marvelous! How wonderful! His last public words were his testimony!
Therefore, my prayer for his grieving family, friends, and even myself, is that when Easter comes next year, we won't be only filled with the sadness for the loss of him, but also prompted to praise God for the tangible reminder that the day we celebrate Christ's defeat of death will always be interwoven with Steve's entrance into eternal life, because:
"…regarding the question, friends, that has come up about what happens to those already dead and buried,
we don't want you in the dark any longer…
you must not carry on over them like people who have nothing to look forward to,
as if the grave were the last word.
Since Jesus died and broke loose from the grave,
God will most certainly bring back to life
those who died in Jesus."
– 1Thessalonians 4:13-14
Christ-followers grieve for our loved ones who have left this earth before us, but only because we will miss them while we journey on, not because we despair of seeing them again. Yes, we grieve. Of course, we grieve. But not as those who have no hope.
Lives again our glorious King!
Where, O Death, is now your sting?
Once He died our souls to save,
Where thy victory, O grave?
ALLELUIA!