Among our four offspring we have a Film Editor, Film minor, Media minor, and English major, so when it comes an event about any medium that involves story, we're going to get into it!
After two full Saturdays of the six of us getting together (plus Tommy's Danae – a theater major/writing minor  – she fits right in!) to watch all eight of the Best Picture Oscar Nominations at the AMC's Oscar Showcase, Sunday we settled in at The Parents' for a day of celebrating the Academy Awards.
We Woodward-Durbin's are a corny group, so we watched the pre-shows and the main event while noshing to on foods that represented each best picture nom.
Lunch was "Poor Man's Mac n' Cheese" (The Big Short) with buffalo and elk sliders (Revenant), Roasted potato wedges (The Martian) washed down with Moscow Mules (Bridge of Spies), and birthday cake with no candles (Room) covered in crushed vanilla Oreo cookie "sand" (Mad Max: Fury Road).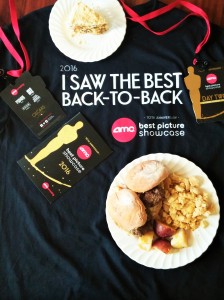 For dinner we enjoyed lasagna and garlic bread with Irish soda bread (Brooklyn) and Boston cream pie for dessert (Spotlight – thanks, Danae for coming through!).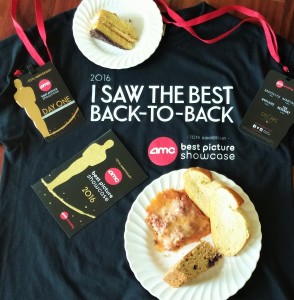 We had a wonderful time critiquing what everyone wore (Heidi Klum, what on earth were you thinking?), filling out our voting ballots (Tommy, our film minor, guessed the most right, as he does every year, being the only one who has an ear to the ground in the film world.), and chalking it all up to politics.

The group took full advantage of the ability to pause live TV to have a spirited and probing discussion about the race controversy. Among us it was wondered, is it really pure racism, or does the film industry simply want to put out a product that will make the most money? And while it would be great to see the black community given more "opportunity," what about the Asian community, or Hispanic, or Indian (dots and feathers), etc?
While we didn't come to any conclusions, we all agreed that Chris Rock was the perfect host for the evening. I don't know of anyone who could have handled the situation with such a perfect combination of frank confrontation and charm to keep us listening. Yes, he had a "miss" or two, but was otherwise so solid that I barely remember them. His Opening Monologue was flawless and we're still laughing over the Compton interviews and Girl Scout Cookie sales!
All in all, while I think the Best Picture showings were rather thin this year (Mad Max and The Martian were nice, but really?) it was one of the best Academy Award shows I've seen in a long, long time. You go, Lady Gaga!
If you missed it, you missed out!